citinotes
Battle of spirits
I had seen the signs and yet I had ignored them. Years before my first trip to Naples, I remember a dear Neapolitan friend of mine carrying a red-pepper charm on her key ring. I thought it was cute and fashionable. When we were stressing out over our school exams, she would extend her index and little finger to do the sign of the horns. Still nothing: I thought she was a heavy metal fan. The third time I finally got it right: we met a guy she didn't seem to like, and when I asked her why, she said: "I am not sure; I feel he gives the malocchio." Bingo! Even though I had never heard this word before, I was almost sure it had to do with the forces of "the evil eye", a notion to which all Greeks like me are quite familiar with. "Are you superstitious, cara?" I asked my friend. "Naturally!" she replied, "I am from Naples".
I wanted to learn more about this fascinating aspect of Neapolitan culture. My friend talked to me about the jettatore: a mythical figure that attracts all evil spirits and brings bad luck to whomever he/she meets. In his travel notes below, eminent writer Alexandre Dumas (1802 – 1870) argues that the jettatore is like "an incurable disease" that anyone can catch, man or woman, old or young, rich or poor; once this happens, the jettatore is, alas, the last one to realize his -or her- misfortune. Dumas' book "Le Corricolo" -a reference to the carriage he used to ride in Naples- is a fascinating anthology of descriptions and anecdotes that dig deep into the Neapolitan heart.
Reading between the lines, one realizes that the jettatore serves as the perfect scapegoat: an abstract, invisible -yet omnipresent- enemy to blame for all the unfortunate events, all the misery and insecurity eroding people's dreams. As French writer Dominique Fernandez (1929 – ) points out below, sometimes it is easier to blame "a shadow" for easing the pain of a woman who miscarried, than to draw her attention to her poor living conditions and consecutive births as plausible reasons for her miscarriage. When reading his notes, it is best to take into consideration the city's state of education and poverty some fifty years ago -surely on lower levels than today's.
The economic hardships of the locals and their faith in the metaphysical could also explain why Neapolitans are so fond of lucky games. Take a walk down-town and it won't be long until you cross a Lottery store. For some people, it is like a second home where they will hang out with friends, discuss the latest news, or complain about their bad luck. They even have a handbook of numbers, called smorfia, which helps them play the numbers they dream of in their sleep. In an extract below, Matilde Serao (1856 – 1927) , the first female newspaper editor in Italy's history, describes a game of Lottery taking place in some hidden Neapolitan backyard, at the turn of the 20th century. Serao captures the most crucial moment of the game, when the last two numbers are about to be revealed to the players gathered there. It is all or nothing, and the courtyard drowns in a silence of suspense: soon it will all be over.
Knowing that there is a fine line between good fortune and bad luck, Neapolitans are not happy with merely fighting bad spirits off: they also must please the good ones. They have saints for this purpose. In fact, according to the French-Italian writer Domenico Rea (1921 – 1994), Neapolitans prefer them to God, because they feel closer to them. Half-way between earth and sky, saints act as mediators transferring prayers and complaints to the more abstract figure of God. The legend of Naples' patron saint San Gennaro is as compelling as the myth of the jettarote: Three times a year, the city floods with pious Italians from around the world who come here to celebrate a scheduled miracle: the liquefaction of vials allegedly containing his blood. And when religious saints do not suffice, Neapolitans turn to secular ones: Diego Armando Maradona is, to their eyes, a demigod of blood, sweat and tears. No need here for a papal seal: "Saint" Diego is worshiped every day in street shrines devoted to his loving memory.
The streets of Naples bear witness of this timeless spirit of superstition: notice all those street shrines, lottery stores, amulets and statuettes of saints and heroes. With these homemade "totems" it gets easier for the Neapolitans to laugh at the city's chronic poverty; they give them something to hope for, when faith in human power seems to be gone; an illusion of justice that helps these brave people rebound and forge ahead.
Citinotes
"In Naples, we will never become true disciples of Voltaire. Never will we be able, like Voltaire, to choose, once and for all, rationalism over the traps of superstition and the duplicity of witchcraft. There will always be [...] a zone of shadow, of fear inside of us, which happens to be called jettatura".
The Jettatore is a Neapolitan invention, a fictional character: half buffoon, half diabolical, the Jettatore brings bad luck wherever he goes. […] We need him because his malefic eye concentrates all the wandering adversity of the city. His existence protects as much as it worries. […]
The invention of the jettatore was a compromise between ancient magic and modern rationalism.
And if the jettatore, symbol of the defeat of reason in front of the incidents of misfortune, continues to enjoy a much greater popularity in Naples than in the rest of Italy, it is because the contrast between high culture […] and economic depression has remained as acute as ever. […] Everyone laughs at the jettatore, but everyone believes in him and touches their horn in front of the villainous trooper.
Dominique Fernandez, Mère méditerranée, Bernard Grasset, 1969.
The Jettatura is an incurable disease; he who is born a jettatore, will die as a jettatore. […] In general, the jettatori are unaware of their fatal influence. We cannot call someone a jettarote: it would be a very bad compliment to address the person and there are many who would take that badly.
Therefore, the only solution left is to avoid them as best one can. If this is not possible, one should ward off their influence by holding his hand in the aforementioned position: Whenever you see two men in Naples chatting in the street, and one of them keeps his hand folded against his back, take a good look at the one he's talking with, for he is a jettatore, or at least a man who has the misfortune to pass for one.
When a foreigner arrives in Naples, he surely starts by laughing at the concept of the jettatura; then, little by little he starts feeling concerned about it; finally, at the end of a three-month stay, you will see him covered with horns from head to toe, and with his right hand eternally clenched.
Nothing can protect you against the jettatura, other than the means I have indicated. There is no rank, no fortune, no social position that can put one above the blows of this misfortune. All men are equal before the jettatura. On the other hand, there is no age, sex, or profession for the jettatore: he (or she) can be a child as well as an old person; he can be male or female; lawyer or doctor; judge or priest; industrialist or gentleman; lazzarone (i.e. beggar) or great lord; the only thing that is important to know is if one or the other of these ages, sexes or conditions, adds or removes gravity to the spell.
Alexandre Dumas, Le Corricolo, Editions d'aujourd'hui, 1843.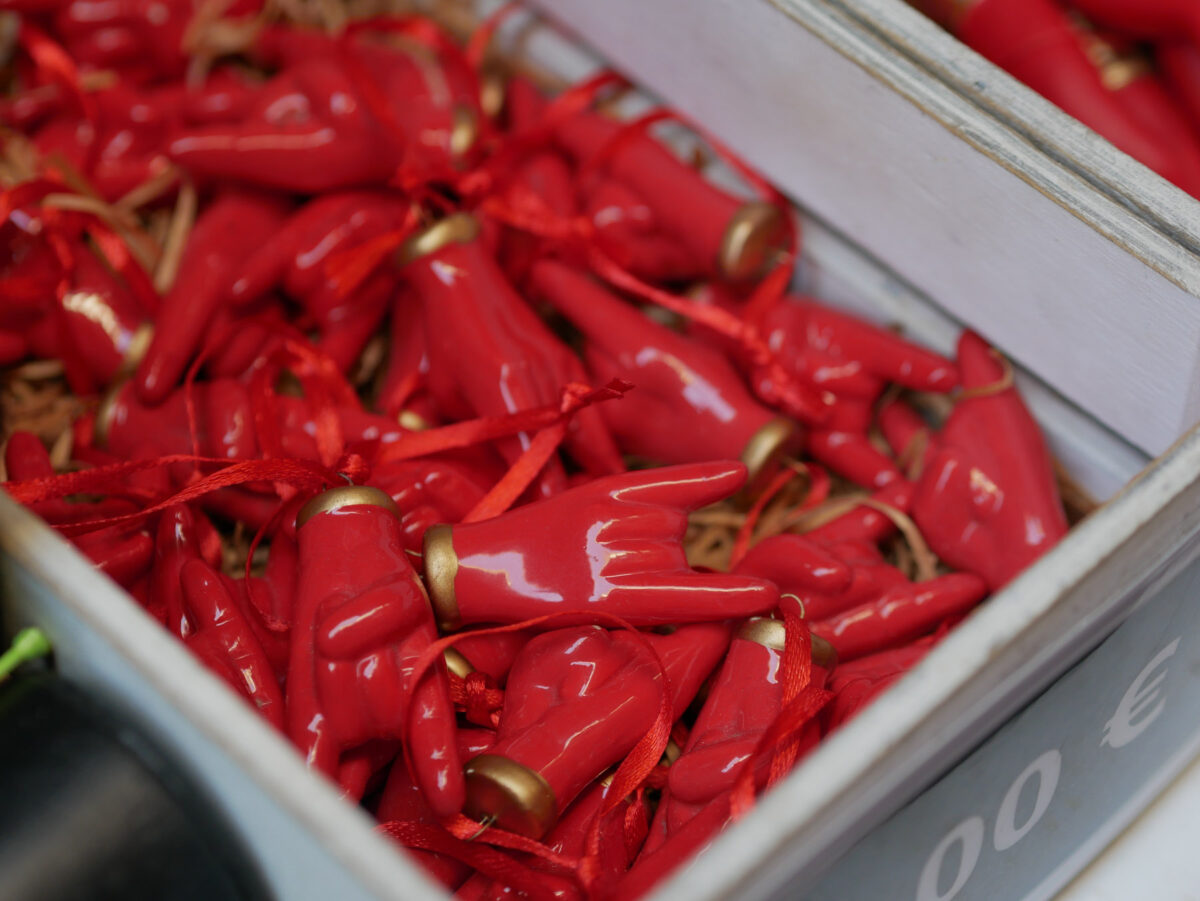 chapter 2
The miracle of Lotto
"Eighty-four!" shouted the usher, calling the number and placing it in the third box.
At that moment, a great howl of indignation broke out, made up of oaths, lamentations, irritated and pained exclamations. That third -bad- number was decisive for the draw and for the players. With that "eighty-four", those who had played the first, second and third draws were already disappointed. […].  A chorus of curses rose from below, against bad luck, against the unfavorable destiny, against lottery and all those who believe in it, against the government, and of course, against that unfortunate fellow who had such an unlucky hand. […]
"Forty-three!" shouted the usher once more, and placed the fifth and last number. An ultimate breath of anger ran over the people: it was over.
In a flash, the cold lottery machine literally disappeared from the terrace; just like the children, the local authorities, the urn, everything vanished with the eighty-five numbers and its pedestal, its tables and armchairs. The windows and shutters of the large balcony were closed. The cruel lottery board was left alone, upright, leaning against a balustrade, featuring its five numbers…five fatalities, five disappointments!
Reluctantly, with great slowness, the crowd cleared out of the courtyard. The wind of desolation had blown on the most excited ones and had brought them down, leaving their arms and legs broken, their mouths bitter with bile.
That morning, many had gambled all their money, no longer feeling the need to eat, drink or smoke. They had fed themselves with visions of their feast.
They had dreamed of a whole orgy of Lucullan meals, devoured in thought on that Saturday evening, on Sunday, and all the following days! Now they half-heartedly held their hands in empty pockets. In their devastated eyes, a physical and childish pain mounted; the pain of one who feels the first cramps of hunger and who has no bread to comfort his stomach -and he knows he won't be able to get some. […]
The craziest ones, had fallen -only for a moment- from the height of their hopes; they went through a long minute of anguished madness, refusing to believe […], and, staring still with eyes fixed on the table of five numbers -as if they could not yet convince themselves of the truth- they mechanically compared the five numbers to the long white series of their gambling slips.
Matilde Serao, L'estrazione del lotto, in Gens et Paysages du Sud, Le livre de Poche, 1993.
chapter 3
The lawyer-saint
Neapolitans ignore God. They have placed their saints, as a sort of lawyers, between themselves and God. Among all saints, the best lawyer of the Neapolitans is San Gennaro, for he is responsible for defending the actions of people […] in Paradise.
For people in Naples would not know how to speak to God; they wouldn't know how to go about addressing an abstract entity which can be neither seen, nor touched. But at the Duomo, they have the statue of San Gennaro, perfectly tangible. God is a dream, an idea. San Gennaro is a man made of flesh and blood.
Indeed, San Gennaro is the last saint in the world who can prove that he is still alive – twice a year- by the liquefaction of his blood. A blood which begins to boil like a boiler in the shrine that is held in the hands of the archbishop […] and shown to the crowd in prayer. When the blood -whose liquefaction has been the object of debates- begins to boil, each devotee solves a problem. For example, […] the sterile woman will have a child; the enemy of some person […] may die; earthquakes will no longer cause mourning; […] the lava of Vesuvius will stop at the gates of the city.
San Gennaro said yes. With the liquefaction of his blood, San Gennaro gave his approval. But above all, given that for Neapolitans hunger has always been the biggest problem, San Gennaro will come to their dreams and manage to dictate the right lotto numbers to the one he has chosen beforehand so that he wins tons of money and chases his misery away. […]
San Gennaro will never advise his people to get to work; he will advise them to go and play the Lotto numbers, thanks to which all of the players' most obsessive problems will be solved in the best way and without any effort. The Lotto game, one of the main weekly activities of the Neapolitans across social classes, is an extension of San Gennaro. These two are linked.
Domenico Rea, Visite privée : Naples, Chêne, 1991.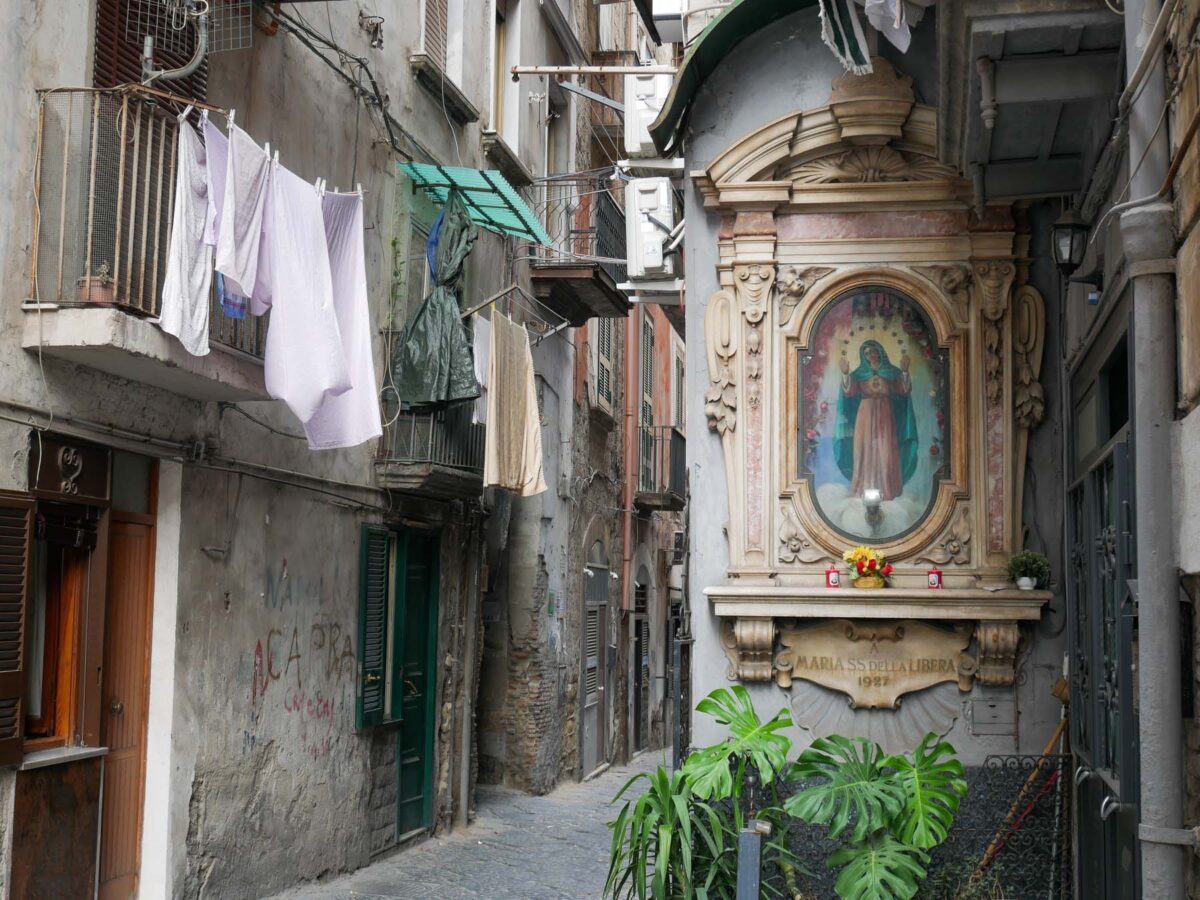 chapter 4
In evil eye we trust
What should we say to mothers when their breasts dry up, when the cruelest death takes away their thirsty baby? Who would dare to tell them that things could not have happened differently in a city where maternal milk is the only food of a newborn; where […] hygiene is so deplorable that any other food bought in the market would be poison for their babies; where hospitals operate in such dire conditions that a child would have more chances of dying there than in the family warmth of the household? Who would be so inhuman as to explain to them that the drying up of their milk results from their excessive number of labors, and that this laxity, in turn, depends on the idleness of their husbands, and on the chronic misery – an overwhelming and hopeless misery- of their homes?
You can see that, in this case, the language of reason might make them lose the little sense they are left with, after having seen their babies die one after another. It is much better to speak to them in the language of madness,
letting them think that they must have met a dark jettatore in the street: a wretch, a sorcerer, jealous of their happiness and their maternal fulfillment, who got his eyes set at the tip of their breast to steal their milk.
They try to protect themselves against the evil eye, as best they can. They fill their pockets with cloves of garlic; at home, they hang a pair of scissors from the cradle: should the evil eye dare to come close to the child, it would recoil under the fear of being cut in half.
Under their shawl, you will find them placing a newspaper against their breast: they think that, with all the time and effort it will surely take to decipher the letters, the evil eye will have no choice but to turn away […]
You see, these women barely know how to spell or read; so they place trust in this scheme. All these protective rites keep their heads occupied and lift their spirits. What good will it do to draw them a portrait of the Neapolitan situation, […] an absolutely calamitous situation which has no cure or way-out? Naples ends up killing the very children that women are forced to give birth to.
Dominique Fernandez, Porporino, ou les mystères de Naples, Grasset, 2005.
Naples of the spirits
Inspiring places dedicated to religious and secular saints of Naples.