citinotes
Matisse's garden
One of the reasons I am fond of the city of Nice is its proximity to the natural elements. In a couple of hours, I can easily switch between three sceneries: start my day with a walk on the beach of the Promenade des Anglais to feel the sand tickling my toes; take a short hike up to the panoramic cliff of Colline du Château to soak-in the Provençal scents of cypress trees, without ever losing sight of Nice; go down to the old city and get lost in its shady, sinuous alleys, where the mistral whistle covers the grocers' voices. In Nice, one can never be too far from the sea.
And if the salty breeze and strong winds of the Mediterranean are not enough to stimulate my senses, I will wait for the sunset, go up to the eastern tip of the Bay of Angels, right next to the famous #ILoveNice installation. The spot's panoramic view over the Bay and the city of Nice is just phenomenal. I love to go there, on a clear day, in the blue hour, to enjoy a symphony of colors, shades and textures. I will be gazing at the pleated waves as they are soaking the smooth sand. My thoughts get scattered in the endless, multicolored reflections of neon lights as they hit the sea surface. A long string of street lights, stretching along the elongated curve of the Promenade des Anglais, make me think of Ingres' Odalisque. Up in the sky, there is a rainbow of hues made of royal blues, carmine reds, baby pinks and plum purples.
These magnificent colors can also be found on the streets! Flowers are a dominant trait of the Riviera's landscape. Just take an exhilarating walk at Nice's historic flower market of Cours Saleya; notice how beautifully window boxes adorn hotel doorsteps and "paint" flashy lines on squares and streets. Explore the nearby village of Grasse, world capital of perfumery. Every year, thousands of rosebuds are cultivated to end up in crystal bottles for Dior, Channel, Guerlain and other prestigious brands. During its annual Jasmin festival, decorated floats parade in a town sprinkled with jasmine garlands, while fire trucks spray the crowds with jasmine-infused water.
I wonder how different Matisse's (1869 – 1954) expressive language would have been if he hadn't decided to move to Nice in 1917. His bold use of color -his intensive reds, blues and greens- changed the course of painting forever. Captivated by the Mediterranean sunlight, he wrote many letters praising the "incomparable light" of Nice. His work is a passionate homage to the vibrant colors of the Riviera, as these were captured within the frame of his house window: the sea, the beach, the flowers, the summer clothes. He lived and worked on the French Coast until the very end of his life, in 1954.
Matisse was not the only artist "possessed" by the Riviera's colors. In the selected extract, Théodore de Banville (1823 – 1891) writes an enchanted ode to the "irresistible blue" of the Mediterranean, a sea "barely pleated by the wind in tiny undulating folds like the airy tunic of a sleeping nymph". Deeply inspired by Hugo and Beaudelaire, this precursor of romanticism, is considered one of the greatest poets of his time. The "blue of Nice", a literary invention of his own, becomes his signature-phrase every time he talks about the Riviera. He was rightfully nicknamed "the poet of happiness".
Roger Martin du Gard (1881 – 1958) was yet another case of a writer who chose Nice to produce the greatest part of his work -including a Nobel-prize awarded novel, entitled Summer 1914. A trained photographer and an archivist, Martin du Gard was known for his attention to precision. In a letter to his friend and renowned writer, André Gide, he describes in vivid details the euphoria of a bunch of friends as they take an evening walk exhilarated by the sweet scent of petunias.
Friedrich Nietzsche (1844 – 1900) made consecutive trips to the Riviera. In his letter to Seydlitz edited in 1888, Nietzsche tried to analyze the color spectrum of a winter dawn in Nice. In Ecce Homo, he described his body's stimulation when hiking a mountain in Èze village. The magnificent landscape of Èze moved the German philosopher and inspired him to write the third part of his philosophical novel, Thus Spoke Zarathustra. The steep forest trail Nietzsche was taking every day, with its magnificent views to the Mediterranean Sea, was given his name.
Citinotes
"When I thought, opening the window, that I was going to have this light every single day, I couldn't believe my good fortune"
chapter 1
An irresistible blue
Here, under the hot blue sky of December, the climate is lukewarm; the winter is dressed in sunrays; a magical, fairylike flowering persists and above all…the sea; this sea with its enchanted lullaby song…Everything here tells us: "fall asleep, nothing is worth the pain of nothing; let yourself die, let yourself live!" Who could recount the irresistible seduction of a Mediterranean Sea barely pleated by the wind in tiny undulating folds like the airy tunic of a sleeping nymph? Near the coast, a sea -enveloped in Azure and lapis lazuli- succumbs under the soft blue sky; while, further away, it bathes in a splendid darkness. No matter how near or far, these adorable blue waters are always serene and implacably joyful, and it cares to know nothing about the melancholy that tears us apart. […]
This ineffable blue is everywhere: in front of me, around me, in the distance, in the infinite horizon; an abyss of burning light will open up somewhere inside its gut, like a blazing sheet, like a lake of molten gold, drowned in an azure devoured by its bright flames […] It wants nothing that calls the human being to mind:
It is the azure sea of the gods, made to carry the Venuses and the Amphitrites with hands that caress garlands and bouquets of stars.
Sometimes, a small white boat happens to sail in peaceful waves, like an Aphrodite's dove fleeing to the bosque of Cyprus […].
In the middle of a swell in celestial blue, it looks as if a few verdant islands, bathed in light, call the vanquished walker and tell him: "Come to us, forget all the rest, we have never known anything but rest, bliss, silence, peace and love chats of the night under groves of perfume and shade."
Théodore de Banville,
La mer de Nice : Lettre à un ami. Poulet-Malassis et De Broise, 1861.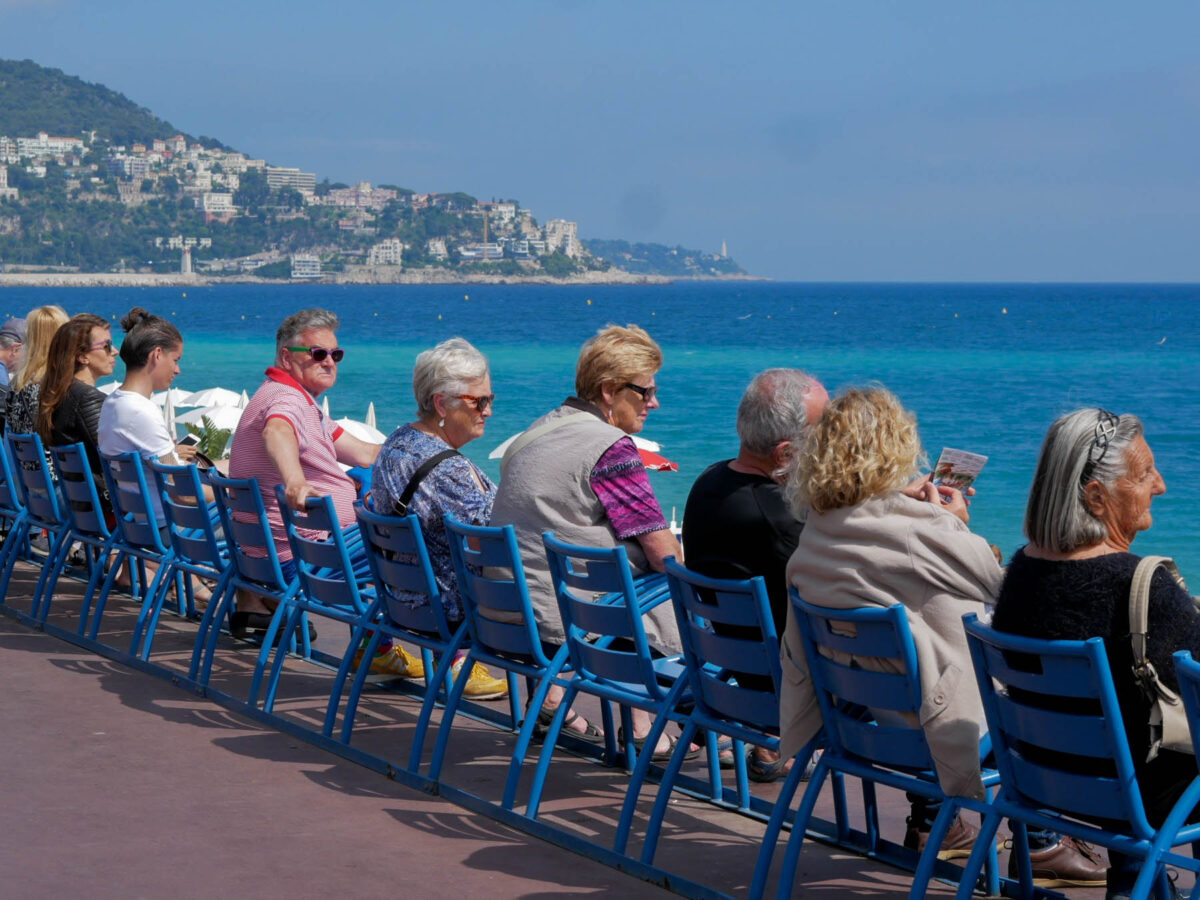 chapter 2
Color explosion
Nice, February 12, 1888. 
DEAR FRIEND: 
It has not been a "proud silence" that has sealed my lips to everyone all this time, but rather the humble silence of a sufferer who was ashamed of betraying the extent of his pain. When an animal is ill it crawls into its cave -so does la bete philosophe. […] In these circumstances one has to live at Nice (sic). This season it is again full of idlers, grecs and other philosophers -it is full of my like. And, with his own peculiar cynicism, God allows his sun to shine more brightly on us than on the more respectable Europe of Herr von Bismarck […] 
The days seem to dawn here with unblushing beauty; never have we had a more beautiful winter. How I should like to send you some of the coloring of Nice! It is all besprinkled with a glittering silver grey; intellectual, highly intellectual coloring; free from every vestige of the brutal ground tone. The advantage of this small stretch of coast between Alassio and Nice is the suggestion of Africa in the colouring, the vegetation, and the dryness of the air. This is not to be found in other parts of Europe. 
Friedrich Nietzsche,
Letter to Seydlitz in Selected Letters, 1909, translated by Anthony Ludovici, Doubleday, Page & Company, 1921.
Many hidden corners and heights in the country round about Nice are hallowed for me by moments that I can never forget. That decisive chapter, entitled "Old and New Tables," was composed during the arduous ascent from the station to Eza—that wonderful Moorish village in the rocks. During those moments when my creative energy flowed most plentifully, my muscular activity was always greatest. The body is inspired: let us waive the question of "soul". I might often have been seen dancing in those days, and I could then walk for seven or eight hours on end over the hills without a suggestion of fatigue. I slept well and laughed a good deal—I was perfectly robust and patient.
Friedrich Nietzsche,
Ecce Homo, Leipzig: Insel-Verlag, 1908, translated by Anthony Ludovici, Paul V. Cohn for Project Gutenberg Ebook, 2016.
chapter 3
Flowers in ecstasy
Nice, September 10, 1935
Nice remains an exquisite place: every day, I congratulate myself for having chosen this city to shelter my solitude. The season is exhilarating in this city. I only go out at night, but the nights are magical! Squares are filled with perfumes. There are fields of petunias of a scent so sweet it envelops you like an opium dens.  
It is a time when, in the gardens, the blessed aloes -that Demeter, your friend, condemned- are now in their death throes, pushing their unique and gigantic erection towards the sky!
A time when, on the promenade, boys are strutting in their little knitwear without collars or sleeves; where pretty girls wiggle around in their "shorts"… Life seems so sweet to everyone.
The luxury of lights, of palm trees, of raging orchestras on the terraces, is by no means insolent because it belongs to everyone: the less fortunate can enjoy it as much as the richer. At the back of a marvelous, dirt-cheap armchair where I digest a handful of peanuts -in front of one of the most beautiful and funniest shows in the world- I am as happy as my neighbor, the billionaire who watches the same parade from the same armchair, after having dined at Negresco (note: a luxurious historic hotel). 
Roger Martin du Gard,
Correspondance avec André Gide, Vol. 2- 1935-1951, Gallimard, 1968
chapter 4
Room with a view
Nice, May 23, 1918
I worked all this time in full sun, from 10 am till noon, and found myself exhausted from all that brightness. I'm going to change my schedule: as from tomorrow, I will start at 6:30 or 7:00. This way, I will have one or two hours of good work. The olive trees are so beautiful in the morning- the midday is superb, but frightening; […] I took a nap under an olive tree earlier and everything I saw was colored in a touching sweetness. It seems that it is a paradise that one does not have the right to analyze even if he is painter […]. Ah! What a gorgeous place Nice is. What a sweet and mellow light, despite its radiance! […]
Henri Matisse 
Lettre à Camoin, in Ecrits et propos sur l'art, Hermann, Editeurs des sciences et des arts, 1972.
Henri Matisse to Louis Aragon 
Do you want me to tell you about Nice…why Nice?  In my art, I have tried to create a crystalline universe for the mind: I have found this necessary clarity in several places around the world: in New York, in Oceania, in Nice. If I had painted in the North, like I did thirty years ago, my painting would have been different: there would have been mists, grays, degradations of color by perspective. While in New York, other painters over there will say: "you can't paint here, with this zinc sky!" Well, actually, that sky is admirable!  Everything becomes sharp, crystalline, distinct, and limpid. Nice, in that sense, helped me.  One has to understand that, what I paint are objects conceived with plastic means: if I close my eyes, I can see the objects better than with my eyes opened, deprived of their small irregularities, that's what I paint…
Louis Aragon on Henri Matisse
Nice -more particularly the Ponchettes district, where he first settled, and, later on, the heights of Cimiez- is closely linked to the glory of Matisse. […] It is Nice that the windows of Matisse open up to -in his paintings, I mean. Behind those marvelous open windows, the sky is as blue as the color of Matisse's eyes behind his glasses. And it is a dialogue of mirrors. Nice looks at his painter and paints in his eyes. […]
There is no city in France, even counting Paris, more cosmopolitan than Nice […] In Nice, people come from the four corners of the world bringing the dust of their homeland, their customs and traditions. In this context, it must be said that this city brought to the painter yet another source of inspiration, besides its sunlight and tropical vegetation:
Nice offered to Matisse a choice of models, of types of women that he would not have found elsewhere, a breath of the vast world: the East, Russia, the North African countries, and even the South Seas. That reconstruction of the world is visible all over his work.
Louis Aragon,
Henri Matisse, Roman, Gallimard, 1971.
The French Riviera for nature aficionados
Places to walk, eat, and sleep surrounded by fabulous landscapes.